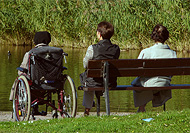 "What would we do without you?" That's a comment we often hear from clients and their families.
At Companion Services, we help the elderly and people with disabilities, those who are still in their homes and those in care facilities, so they can fully enjoy the pleasures and opportunities that life presents.
We tailor our services to the individual needs and interests of our clients, as we realize everyone is different and the challenges before us are ever-changing.
Our visits include a variety of interests, such as reading, correspondence, outdoor walks or other outings. But they begin and end with the needs and specific interests of our clients. "How can we help?" is always at the top of our minds.
In addition to the care and attention we provide, Companion Services is fully insured: liability, third-party vehicle insurance and Workers Compensation.
Here are some of the services we offer: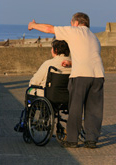 Respite for family members who cannot always be there. We maintain close contact with families via Internet or telephone with up-to-date information on their family member.
Act as advocate and liaison between family and staff at a care facility.
We book medical, dental or other professional appointments.
Personal shopping and restaurant outings.
Transportation via a specially equipped van or one of our automobiles.
Accompany clients to social events and appointments.
The services of the CNIB to promote vision health and support people with vision loss.

Tell us what your special interests are, what innovative and creative ideas you'd like to work with: theatre, music, movies, lectures or conferences, nature, photography, or just a drive around town or a lunch and shopping expedition. Or perhaps it's a trip to Hawaii or that cruise you always dreamed about.
If you require a special service, we can arrange one of our approved professionals to visit your home or care facility:
Optometrist for visual check-ups and prescriptions.
Local optical company that supplies a large selection of eyewear.
Legal services.
Registered Massage Therapist.
Special needs clothing company.
Local hairdressers.
Income tax preparation and planning, retirement and estate planning services.