Companion Services has a 25-year successful track record of providing companionship and support to the elderly and persons with disabilities in the Victoria area.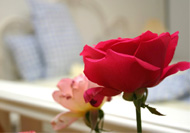 Owner/operator Agneta Peterson and her staff believe in providing companionship that is as attentive and caring as time spent with a family member.
"We like to go the extra mile", says Agneta. "We know that we're here to help and we get great satisfaction from the appreciation of our clients".

"We realize that any one of our clients could be our mother or father. And that's how we like to treat them".
Agneta has always enjoyed working with people, especially the three children she raised. She was born in Stockholm, Sweden and grew up in California before moving to her home in Victoria, British Columbia, on the beautiful west coast of Canada.
Companion Services is fully insured, covering liability, third-party vehicle insurance and Workers Compensation.
Contact Agneta by phone or Fax at 250 477-7755, Cell 250 885-2335 or email info@companionservices.ca